The makers of glōminerals™ believed there was a solution for beauty that offered skin care benefits along with the fun of fashion styles. Using the outstanding benefits of minerals on the skin and mixing it with current fashionable color, they created glōminerals™, a cosmetic beauty collection offering the solution to the demands for perfect makeup.
Antioxidant Power
Glōminerals™ makes science beautiful by infusing their formulations with the powerful antioxidant blend of vitamins C, A, K, E, and green tea extract. On your skin, this blend provides nutrients that are vital to maintaining the health of your skin while protecting it from further damage.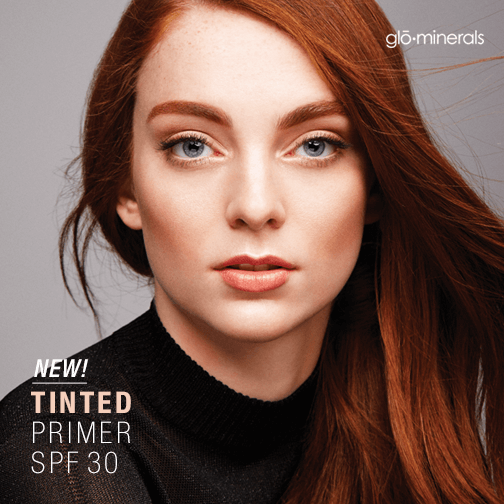 Pharmaceutical-grade Ingredients
Glōminerals™ uses only the finest pharmaceutical-grade ingredients, vitamins and micronized minerals in a triple milled process ensuring that every application provides even, continuous coverage that lasts. Base formulas contain no perfumes or chemical dyes, and are suitable for even the most sensitive skin types and conditions. Every product is non-comedogenic so skin can breathe, which helps inhibit the potential for bacteria to become trapped in pores.
Broad Spectrum UVA and UVB Sun Protection
The formulations in glōminerals™ provide complete UVA/UVB protection using the effective properties of natural minerals including micronized titanium dioxide and zinc oxide.
Color Palette
Glōminerals™ offers innovative new products with a color palette rich with the hottest hues and timeless color classics.
Anti-inflammatory – Acne and Rosacea Prone Skin
Anti-inflammatory ingredients, including green tea extract, zinc and Vitamin C, help improve the appearance and condition of acne and rosacea-prone skin.
Cruelty-free
Glōminerals™ does not test their products on animals.
Beauty with a Higher Purpose
All of these advantages combine to make glōminerals™ a clinically advanced makeup that covers and helps correct and protect. Additionally, the team continues to cultivate innovative products for the glōminerals™ makeup line, pioneering new ways to bring mineral based makeup options to customers. Repeatedly the front runner in the hottest new concepts in mineral makeup, glōminerals™ was nominated by Skin Inc. magazine readers as the Best of the Best and voted most popular in the makeup category. It's no wonder. Taking inspiration from fashion and nature, glōminerals™ makeup has become one of the most fashion-forward makeup lines, continually mirroring the season's hottest colors and creating the most striking looks. Highly praised by Cosmetic Surgeons and high-end spas for its distinctive formulated blends, glōminerals™ continues to raise the bar of the mineral makeup industry and capture the hearts of all women searching for flawless coverage and a stunning, 'glō'-ing complexion.
Glōminerals™ are applied with little effort and conceals flawlessly – letting customers feel confident about their appearance. Whatever your personal makeup style, glōminerals™ offers the look that is right for you! Contact our aesthetician today for a consult.