Dr. Pooja Sethi specializes in custom cataract surgery utilizing the most advanced multi-focal, extended depth of focus, and toric intraocular lenses. She has experience in the treatment of corneal issues, glauco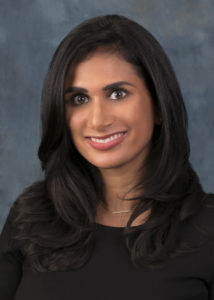 ma, eye infections and a myriad of other ocular conditions.  She has a special interest in femtosecond laser assisted cataract surgery. Dr. Sethi routinely implants the latest technology intraocular lenses that can reduce or eliminate the need for glasses after cataract surgery.
Dr. Sethi received her Bachelor of Science degree from the University of Pennsylvania in Philadelphia, PA.  She went on to complete her medical degree at Tulane University School of Medicine in New Orleans, Louisiana. She completed a year of a transitional internship at The Reading Hospital and Medical Center in Reading, Pennsylvania. Following her internship, Dr. Sethi returned to Tulane University Health Sciences Center in New Orleans to complete her residency training in ophthalmology.
Dr. Sethi has received numerous honors and awards including being a member of the prestigious Alpha Omega Alpha society, receiving the Tulane 34 award, and being honored with the Award of Excellence in Clinical Research from the Tulane University Medical Center in 2014.  Prior to joining Carolina Ophthalmology, Dr. Sethi maintained a high volume cataract and general ophthalmology private practice in La Porte, Indiana, previously affiliated with Indiana University.
Dr. Sethi enjoys spending her free time with her husband and three little boys.  She loves playing tennis and varying types of dance, being outdoors and hiking, and rooting for the Philadelphia Eagles during the NFL season.