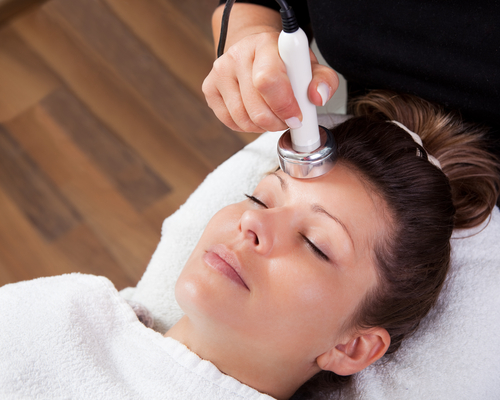 Facial resurfacing uses a CO 2 laser whereby a high energy beam of light is used to vaporize lines, wrinkles, scars, dark spots and other irregularities of the skin. The laser is precise enough to eliminate imperfections in the skin layer by layer. The process also stimulates the skin to form new collagen over time to provide better elasticity and support. Ophthalmologists are specifically trained in the use of lasers and have been using them in the treatment of eyes for over twenty years. Facial resurfacing using a CO 2 laser is done in our office surgical suite and depending on the size of the area to be treated, usually lasts from fifteen minutes to an hour. The procedure is performed using a local anesthetic. During the initial healing phase, some weeping and crusting of the treated areas will occur. Most patients require up to ten days recovery before beginning normal activities. Redness will gradually fade within 4 to 12 weeks depending on your skin type and depth of the laser treatment. It is important to follow the post-operative instructions of your surgeon carefully to ensure maximum results.
View Video
Laser Facial Rejuvenation
Laser facial rejuvenation is a popular service offered through Carolina Skin and Laser that utilizes the multi-platform Cutera Xeo Titan Laser® to give skin a more youthful appearance. Cutera laser treatments are designed to target uneven pigment, pore size, and wrinkles. The laser uses powerful, select wavelengths of energy to treat deep layers with minimal side effects. These lasers target progressively deepening layers of the skin and includes two of Cutera's best technologies: Photo Genesis and Laser Genesis.
Photo Genesis: Skin Redness, Brown Spots, and Sun Damage
Photo genesis is an innovative way to quickly, safely, and comfortably improve your skin's texture , tone and color on your face, chest, arms, and hands, without gel or topical anesthetics. Signs of sun damage and age spots will usually flake off after one or two treatments, leaving clearer, younger-looking skin.
Laser Genesis: Wrinkles, Large Pores, Skin Texture, and Redness
Laser genesis skin therapy is an innovative technogically advanced way to promote vibrant and healthy looking skin in men and women. Now you can have a more youthful appearance by treating those conditions that are typically associated with premature signs of aging and sun damage, such as excessive redness, large pores, uneven texture, fine lines and wrinkles, and scarring, including acne scars. The Laser Genesis procedure has been scientifically proven to produce new collagen.
For more information on laser facial rejuvenation, schedule a free consultation with our Medical Aesthetician today. Call us at 800-624-6575.