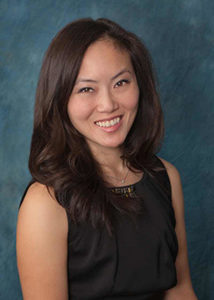 Dr. Christina H. Choe is a board certified ophthalmologist and an ASOPRS fellowship trained oculoplastic surgeon who specializes in reconstructive and aesthetic eyelid and facial plastic surgery, orbital reconstructive surgery and lacrimal (tear duct) surgery. Her specialized training enables her to treat both functional and cosmetic problems such as droopy eyelids, thyroid eye disease, trauma, and excessive tearing.
Dr. Choe has a special interest and training in corrective and cosmetic eyelid and facial surgery, including cosmetic facial rejuvenation. As an adjunct to her cosmetic surgery, Dr. Choe also offers BOTOX®, Dysport® and Xeomin® injections, facial fillers, CO2 laser skin resurfacing, microdermabrasion and prescription strength skin care regimens including Obagi NuDerm®.
Dr. Choe also completed fellowship training in ocular oncology and is uniquely qualified to manage a variety of both benign and malignant tumors both in and around the eye.
Dr. Choe initially came to North Carolina when she received the prestigious William R. Davie Scholarship to attend the University of North Carolina at Chapel Hill, where she attained a Bachelor of Science degree in Public Health. She returned to her home state of Illinois to complete medical school at the University of Illinois, College of Medicine, where she graduated with honors.
After medical school, Dr. Choe completed her ophthalmology residency at the top ranked Kellogg Eye Center of the University of Michigan in Ann Arbor. She then was selected to a highly competitive oculoplastic fellowship approved by the American Society of Ophthalmic Plastic and Reconstructive Surgery (ASOPRS), an elite group of approximately 500 oculoplastic surgeons nationwide. She completed both her oculoplastics and ocular oncology fellowships at the Scheie Eye Institute of the University of Pennsylvania in Philadelphia where she was also on the clinical faculty before joining Carolina Ophthalmology.